Activate license
reWASD has a 14-day trial period for the basic license and 3-day trial for each group of Advanced features, that you can try or buy separately.
To check your current license and features, go to License. The following window opens:
License tile represents Basic license. Its trial is available for 14 days, follow the link to learn more about the available features.
If you want to purchase the Basic license, press Buy, and you'll be redirected to the Cart. If you already have a license number, press Activate, enter the serial number to the new field, and press Activate once more. If you have purchased any features before, they will activate automatically.
To renew the license information, click Refresh the activation status. To switch to another license, click Change, and enter another license key.
Advanced Mapping, Combo, 4 slots, Rapid Fire features have 3 days trial each, and you can start the trial by choosing the desired feature and pressing Try: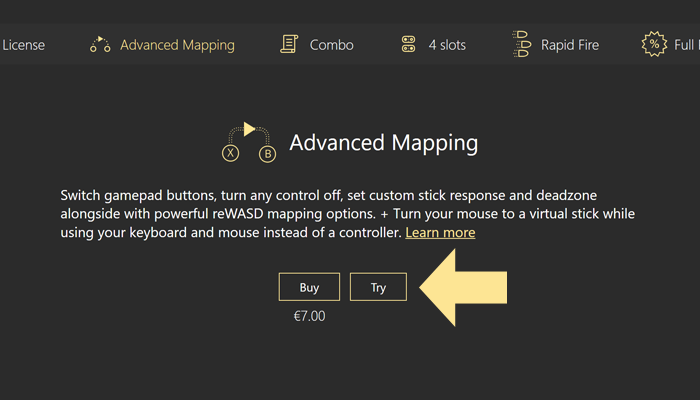 To check the trial days that are left, open the License window as well and choose the needed feature: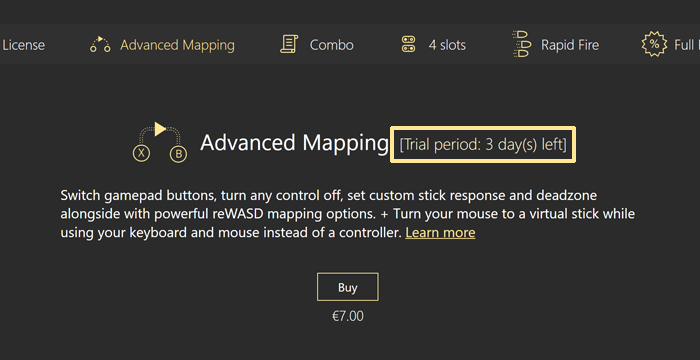 If you decided to buy the feature, you can press Buy, and you'll be redirected to the Cart. To learn more about each feature, press Learn more.
Full Pack tile permits you to manage the Full Pack license. It includes a Basic License + all the Advanced features. To purchase the Full Pack press Buy, and if you already own one, you can press Activate and enter your serial number.
---
○ reWASD Forum ○ Support request ○ Facebook page ○ Discord text chat ○