Uninstallation
To uninstall reWASD, you need to open the uninstallation wizard. There are several ways to do that:
Open the location with reWASD files: the default path is C:\Program Files\reWASD. Or simply open the contextual menu of the reWASD shortcut, that usually can be found on Desktop, and choose Open file location. Then find the uninst.exe file and execute it.
Right-click the Windows icon in the lower left corner and pick Apps and Features. Find reWASD in the list of applications, click on it and choose Uninstall.
No matter what way you have followed, the following window opens: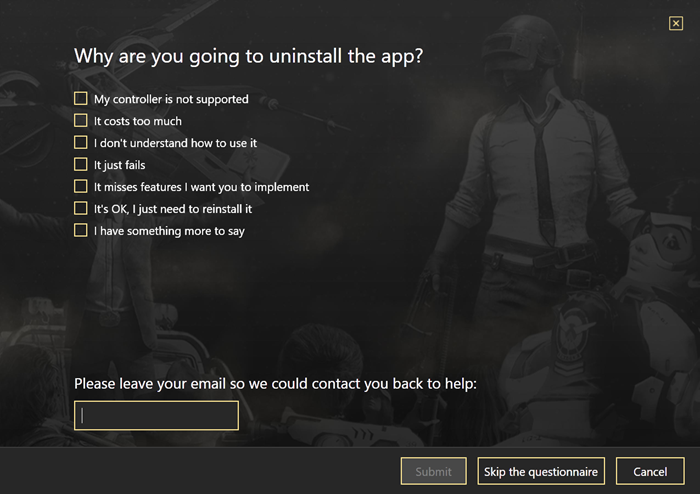 Please spend a few minutes to describe why are you going to uninstall reWASD. We are constantly working on the software and will do our best to solve any issue in the following releases.
Check the reasons you are going to uninstall
Add more details to the options that have a free-form answer
Optionally, leave your email so we could contact you back for the details

Click Submit to send answers or Skip the questionnaire otherwise

The following window opens:

Check Remove all my configs and activation info too if you do not want to use an app in the future. You will lose your custom configs and will need to re-enter the serial number if you still decide to install reWASD again

Press Uninstall to completely delete the software or Cancel in case you have changed your mind
Wait a few moments until the uninstallation process is over. Now you need to reboot your PC. To do that, press Restart your PC, or press Cancel if you want to do it later.
---
○ reWASD Forum ○ Support request ○ Facebook page ○ Discord text chat ○