General tab
This tab permits you to change the generic settings related to reWASD.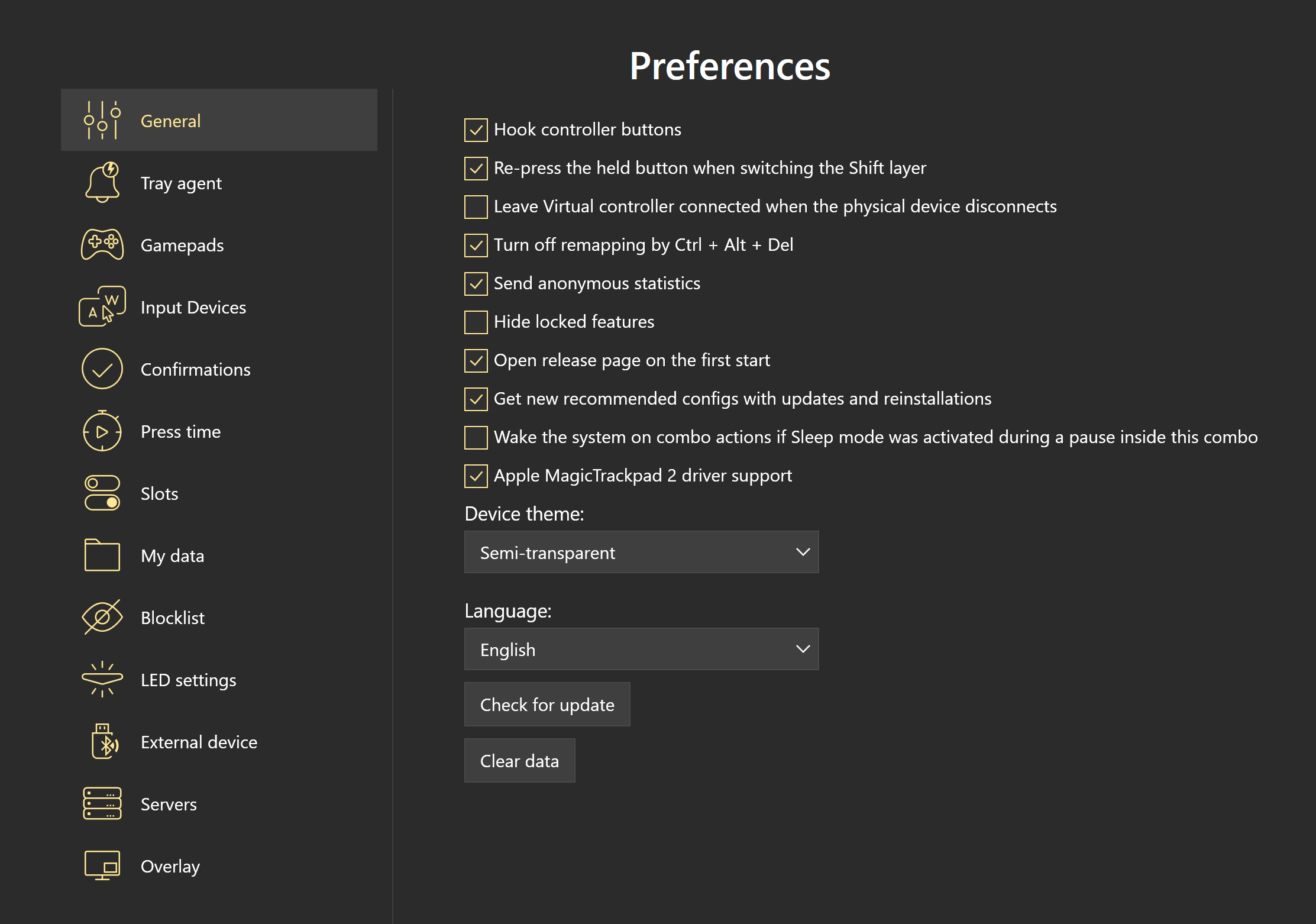 Hook controller buttons — permits you to ease the mapping process by capturing the input from the physical controller.
Re-press the held button when switching the Shift layer — allows to choose the 'old' way Shift mode worked, where you needed to re-press the Jump to Shift key in order fire a new mapping from the Shift layer.
Leave Virtual controller connected when the physical device disconnects — permits to keep the Virtual controller in the system even if the remapped devices are not connected. Useful for the games that are sensitive to controller disconnection while mid-game.
Send anonymous statistics — check this to share the anonymous usage information that will help us to ameliorate the software.
Hide locked features — permits you to put out of sight the advanced features that you don't own yet.
Open release page on the first start — customize if you want to be redirected to the release page on the first launch after the update.
Get new recommended configs with updates and reinstallations — customize if you want to receive the configs our team adds to the app.
Wake the system on combo action is Sleep mode was activated during a pause inside this combo — prevents the activation of a sleep mode.
Device theme — permits you to define the way your devices look in reWASD. You can pick Semi-transparent or Transparent view.
Language — drop-down list allows you to choose the language of the interface.
Check for update to see if the new version of the software is available. Note, that reWASD checks up for update itself every couple days.
Clear data to remove the associations between configs and games, initialization info, Autodetect, LED settings and perform a fresh start.
Please note, that when you Clear data, your configs, license data, and other personal Preferences will stay.
Don't forget to press Apply to save the changes. Press Back to return to the main interface.
---
○ reWASD Forum ○ Support request ○ Facebook page ○ Discord text chat ○