General tab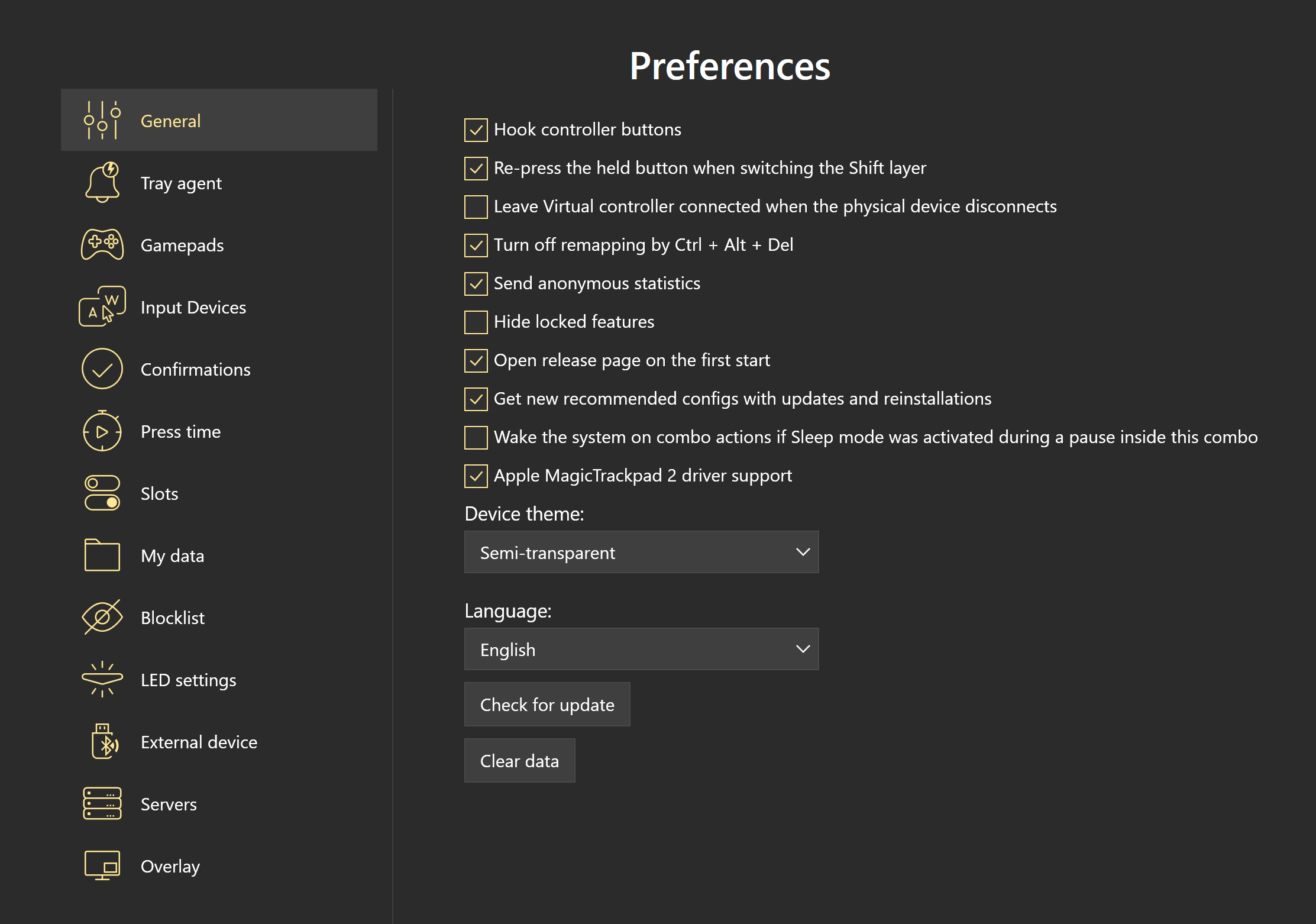 Hide physical controller when the virtual one is created — permits to automatically hide the physical gamepad from the system
Hook controller buttons — this permits to ease the mapping process by capturing the input from the physical controller
Send anonymous statistics — check this to share the anonymous usage information that will help us to ameliorate the software
Hide locked features — permits to put out of sight the advanced features that you don't own yet
Disable mappings on Xbox Elite paddles when they are locked — check this if you want to prevent accidental actions when the paddles are locked
Enable DualShock 4 LED on Remap and Shift changing — this permits to notify you about the currently active layout
Wake the system on combo action is Sleep mode was activated during a pause inside this combo — prevents the activation of a sleep mode
Turn wireless gamepad off if it is not active during 15 minutes with applied config — permits to configure the idle time for a wireless gamepad and save the battery level
Please note, that due to hardware restrictions Turn wireless gamepad off command has some exceptions and doesn't work for certain situations: if you use Xbox Elite 2 controller connected via bluetooth; if you use a custom adapter to connect your gamepad to PC (like MayFlash); if you use Xbox One and connect it via bluetooth, there will be a delay before the gamepad turns off. For these cases, we suggest to use the hardware way to turn off your contorller, which usually is holding the Xbox button for about 8-10 seconds.
Gyro steering axis — permits to choose the default action for steering, Yaw or Roll. Put the cursor on one of the options to see the animated illustration of a certain axis. Learn more about Gyro mode and all the available settings.
Device theme — permits to define the way your devices look in reWASD. You can pick Semi-transparent or Transparent view.
Check for update to see if the new version of the software is available. Note, that reWASD checks up for update itself every couple days
Don't forget to press Apply to save the changes. Press Close to go back to the main interface.
---
○ reWASD Forum ○ Support request ○ Facebook page ○ Discord text chat ○