Gamepad tab
This tab permits you to manage the settings related to physical controllers.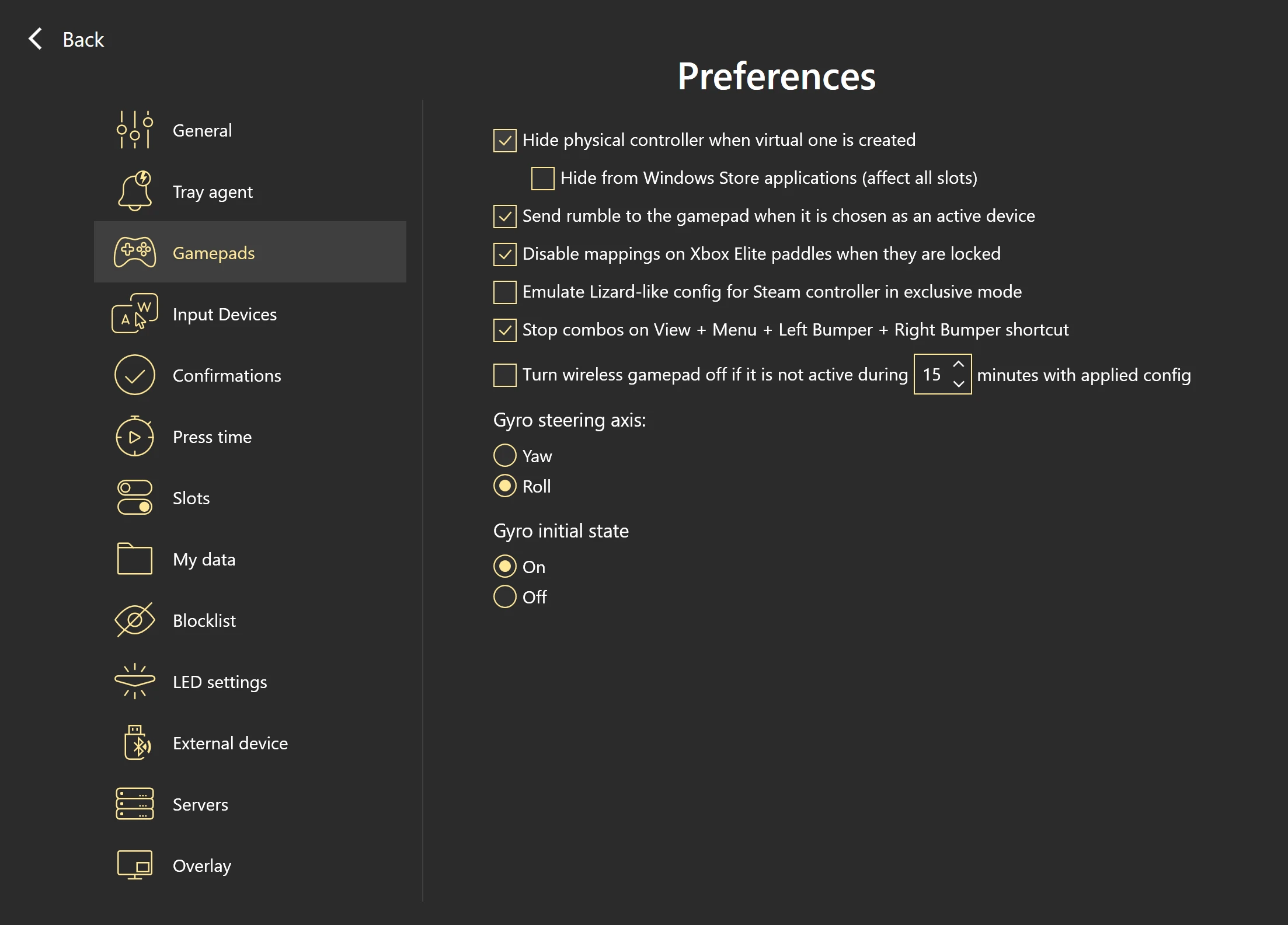 Hide physical controller when the virtual one is created — permits hiding the physical gamepad from the system
Hiding from Windows Store applications (affecting all slots) permits the hiding of the physical Xbox One/Elite controller from all applications downloaded from the Windows Store. This functionality is only available when using a USB connection or a native WiFi dongle. When the option is selected, the device reboots to apply the changes (it starts blinking after applying)
Send rumble to the gamepad when it's chosen as an active device — allows you to spot the controller quicker, in case it's out of sight
Disable mappings on Xbox Elite paddles when they are locked — check this if you want to prevent accidental actions when the paddles are locked
Emulate Lizard-like config for Steam controller in exclusive mode — use the default configuration for Steam controller while in exclusive mode
Stop combos on View + Menu + Left Bumper + Right Bumper shortcut — allows performing an emergency stop of all the combos
Turn wireless gamepad off if it is not active during 15 minutes with applied config — permits configuring the idle time for a wireless gamepad and save the battery level
Please note, that due to hardware restrictions Turn wireless gamepad off command has some exceptions and doesn't work for certain situations:

if you use Xbox One S and Xbox Series X (connected via BT LE starting from 5.11 firmware)
if you use Xbox Elite 2 controller connected via bluetooth
if you use a custom adapter to connect your gamepad to PC (like MayFlash)
if you use Xbox One and connect it via bluetooth, there will be a delay before the gamepad turns off
if you use Logitech controllers: due to the specifics of the gamepad, it is not possible to turn them off using this command

For these cases, we suggest to use the hardware way to turn off your controller, which is usually holding the Xbox button for about 8-10 seconds.
Gyro steering axis — permits choosing the default action for steering, Yaw or Roll. Put the cursor on one of the options to see the animated illustration of a certain axis. Learn more about Gyro mode and all the available settings.
Gyro initial state — allows choosing the initial state for Gyro mappings. You can manage gyroscope actions with Turn Gyro On / Turn Gyro Off and other Commands.
Don't forget to press Apply to save the changes. Press Back to return to the main interface.