Gamepad tab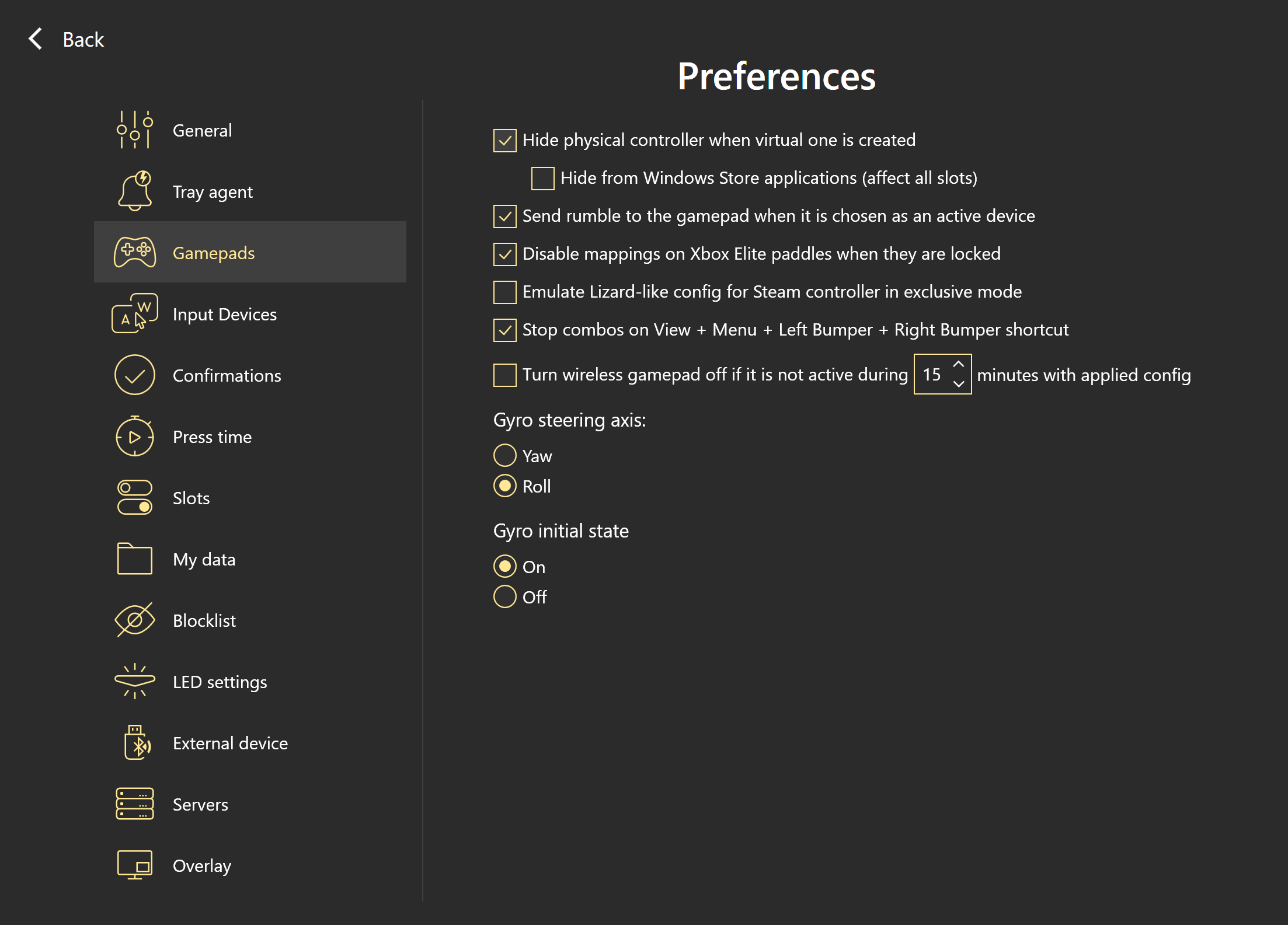 Hide physical controller when the virtual one is created — permits hiding the physical gamepad from the system
Send rumble to the gamepad when it's chosen as an active device — allows you to spot the controller quicker, in case it's out of sight
Disable mappings on Xbox Elite paddles when they are locked — check this if you want to prevent accidental actions when the paddles are locked
Emulate Lizard-like config for Steam controller in exclusive mode — use the default configuration for Steam controller while in exclusive mode
Stop combos on View + Menu + Left Bumper + Right Bumper shortcut — allows performing an emergency stop of all the combos
Turn wireless gamepad off if it is not active during 15 minutes with applied config — permits configuring the idle time for a wireless gamepad and save the battery level
Please note, that due to hardware restrictions Turn wireless gamepad off option has some exceptions and doesn't work for certain situations: if you use Xbox Elite 2 controller connected via bluetooth; if you use a custom adapter to connect your gamepad to PC (like MayFlash); if you use Xbox One and connect it via bluetooth, there will be a delay before the gamepad turns off.
Gyro steering axis — permits choosing the default action for steering, Yaw or Roll. Put the cursor on one of the options to see the animated illustration of a certain axis. Learn more about Gyro mode and all the available settings.
Don't forget to press Apply to save the changes. Press Close to go back to the main interface.
---
○ reWASD Forum ○ Support request ○ Facebook page ○ Discord text chat ○